Sellin' hanamuke's(Yuma & Tenten's previous band) last album before disbandment!


-----PAYPAL ONLY :D-----
If you need further details on any of these, please let me know.
and if I made any errors, DEFINITELY let me know! :(
SHIPPING TO U.S. AND CANADA ONLY, PLEASE!! Unless you can persuade me otherwise ;3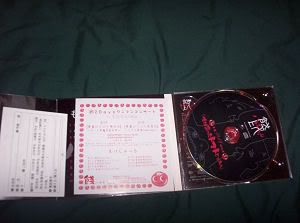 餞~ハナむケ。~(hanamuke) "青春バリバリ特攻集『俺は腐ったトマトじゃねぇ』" (seishun BARIBARI tokukoushuu [ore wa kusatta TOMATO ja nee]) full album.
Outside is made of a sleek cardboard-y material and has many small scratches, but the inside and its contents are relatively untouched.
10 tracks
01. うらトイストーリー~おもちゃの兵隊バージョン~ (ura TOY STORY ~~)
02. 金魚 (kingyo)
03. 線香花火 (senkouhanabi)
04. ハローベイビィ (HELLO BABY)
05. 心の魔法 (kokoro no mahou)
06. 郵便屋さん (yuubinya san)
07. 秋風の残骸 (akikaze no zangai)
08. スタートライン (START LINE)
09. らっちょ~無花六区のテーマ~ (raccho~mukeroku no THEME~)
10. 蔓草の飛行機 (tsurukusa no hikouki)
[25$, or make an offer]


For other various vkei goods, HOP OVER 'ERE, LADDY.